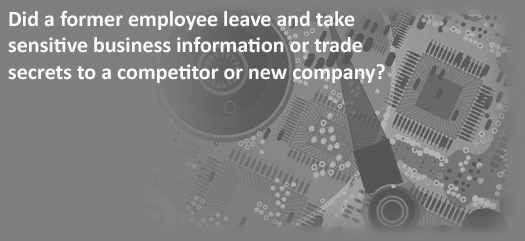 Need an ESI Consultant or Computer Forensics Expert?
Computer forensics company specializing in computer forensics analysis, testimony and eDiscovery consulting.
Computer Forensics Company
Forensicon is the Chicago-based computer forensics division of QDiscovery, servicing clients throughout the United States. We have testified as computer forensics experts in Federal, State and County Courts. Our work and reporting has been upheld by the courts as admissible and valid. We provide ESI discovery consulting services and also assist clients understanding their sources of ESI in preparation for litigation and discovery production requests. When selecting computer forensics services, turn to an experienced and established company with a proven track record of providing quality and legally valid results.
CORE TYPES OF PROJECTS
CORE TYPES OF CLIENTS SERVED
Law Firms and Litigation Service Companies
Software & Consulting Firms
Financial Services Companies and Institutions
Industrial Equipment Corporations
Governmental & Non-Profit Organizations
Healthcare Agencies, Hospitals & Insurance Providers
FORENSICON NOTED CASES
Plaintiff's counsel filed a Motion for Sanctions against Defendants Katherine Camera, an individual, and Broadbent Selections, Inc. Defendants' Counsel Mr. Joseph Marconi and Mr. Victor J. Pioli of Johnson & Bell LTD. successfully defeated those allegations using analysis of Forensicon's Senior Examiner, Yaniv Schiff. Read More…
Forensicon was retained to assist a local financial services company defend against multiple alleged employment related claims including discrimination, harassment, and retaliation. The company's internal IT department had preserved some data related to discovery requests, but counsel wanted an independent, experienced firm to perform an audit and verify the preservation techniques utilized. Read More…
CHICAGO: December 4, 2009 Plaintiffs US Gypsum Co. entered into a law suit against LaFarge North Am. USG accused LaFarge of spoliation and patent infringement. USG also claimed that LaFarge stole manufacturing information. Forensicon was the mutually agreed and court accepted neutral expert that was charged with handling the collection of evidence and conducting the searches for responsive electronic information. Read More…
Forensicon recently assisted a local manufacturing company that was investigating if a recently departed employee misappropriated trade secrets or other proprietary information. Forensicon's investigation discovered the employee had taken clear steps to delete and hide his/her tracks using multiple anti-forensics tools. Read More…

…more case summaries
Related Service Offerings
Articles