Neubecker Attends High Tech Crime Conference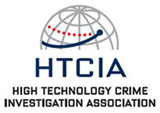 Forensicon's Lee Neubecker is attending the High Tech Crime Investigation Association Conference and Training Expo this week. The HTCIA has been at the cutting edge of cyber security issues for 30 years. The 4 day conference includes classes and labs on emerging cyber security challenges. It features keynote addresses by law enforcement officials and pioneers in high tech crime detection. Forensicon's involvement in HTCIA greatly increases our expertise in the prevention and detection of cyber crime.
The Take-Away
Digital crimes most on the rise include those involving virtual currency, social media breaches, and phisching scams. Individuals are increasingly the target of confidence schemes. Email is the portal of choice for cyber breaches into personal systems. Social media sites increasingly allow the cyber criminal to employ personal information found there to infiltrate computer systems via email. The wealth of information posted on social media accounts is a key cause in the rise of identity theft.
Theft of intellectual property and proprietary information remains the number one concern of corporations. It is therefore important to maintain internal processes that govern employee access to information. While this is key to the prevention of theft, swift detection is essential when prevention fails. Therefore more corporations routinely have computer forensic examiners investigate the cyber activities of their departing employees to detect theft of critical information. When expert analysis reveals the misappropriation of information, litigation may ensue. Then highly trained examiners can provide the expert testimony necessary to the recovery of stolen data.
This process for countering high tech crime owes its effectiveness to organizations like HTCIA. Because of the standards and best practices instituted by such organizations, Forensicon is a powerful ally to vulnerable corporations.